Emerging Asset Management ("EAM"), part of the Apex Group, was incorporated in 2008 to help emerging managers build strong foundations.
Our key mission is to provide new and established, small to medium sized fund managers with an innovative turnkey solution on how to start a hedge fund and launch new funds in Bermuda, the Cayman Islands and Delaware, USA.
We simplify the business of establishing and running a fund for our clients, leaving them free to focus on developing their investment strategy.
Our solutions are a cost effective proposition, reducing our clients' total expense ratio and gaining access to global brand names for fund administration, legal and audit.
We provide the services required to support emerging managers pursuing alternative investment strategies so that they can focus their time and resources on their trading strategies in order to build a successful track record.
Building Foundations
Total Solution
Time Efficient
Peace of Mind
Cost Effective
Key Partners
Helping you grow
We provide our clients with a turnkey solution for both onshore US and offshore jurisdictions; we guide you through the whole process covering all legal aspects, Fund Administration, Prime Brokerage and Domicile, making the process effortless for you. Our clients leverage off our wealth of global experiences through EAM and our partners.
Our clients include hedge funds, private equity funds, property funds, commodities funds and other fund types. We cater for any fund, fund size and strategy.
The platforms are approved by the relevant regulators and provide a suitable legal structure for investors. The assets and liabilities of each sub-fund are legally segregated from those of the sub-funds on the platforms.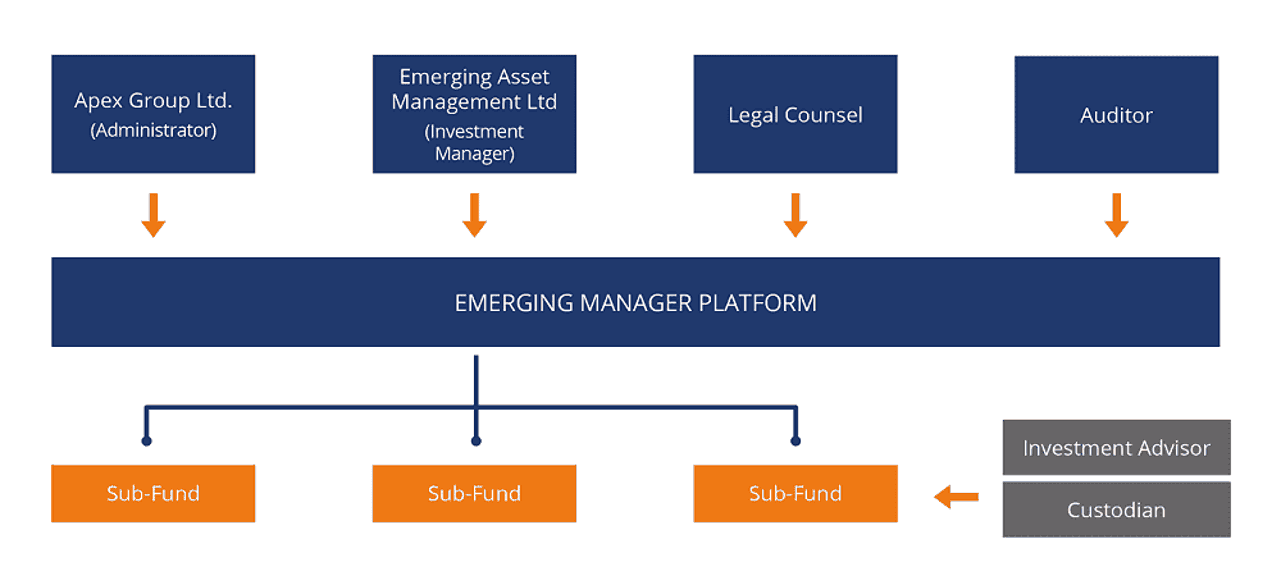 We have engaged globally renowned service providers covering administration, accounting and investor reporting and access to EAM's network of industry relationships. We have very beneficial agreements in place giving managers the benefit of EAM's long term relationships with internationally respected providers.
Hedge Fund Start Up Solutions
Each of the offshore platforms is structured as a segregated account/portfolio. This means that the asset and liabilities of each sub-fund are segregated or "ring-fenced" from those of the other sub-funds on the platform and avoid any cross-collateral risk. Each sub-fund will operate independently and the manager of the sub-fund will be able to establish its own track record.
The sub-funds on the platforms are managed by EAM and administered by Apex Group. We are seeing a continually growing demand for our fund solutions for the small to medium managers, giving our managers greater scope to the investors, capital and track record. EAM has established relationships with globally acknowledged and respected service providers, including prime brokers, custodians, auditors and legal counsel.
The key benefits of the platforms for emerging managers are:​

Cost effective
The platform offers a cost-effective solution for emerging managers who require back office, fund administration, legal and accounting support.

Time-efficient
We provide the legal structure and documentation required to launch a sub-fund quickly. Time to launch can be within 5 weeks.

Access to experienced service providers and professional advisers
Our partners are best of practice providers and we have secured excellent terms with them.

No additional regulatory requirements
The platform is already authorised as mutual funds and segregated account/ portfolio companies in Bermuda and Cayman Islands and there are no significant additional licensing requirements in those jurisdictions to be obtained prior to sub-fund launch.