We understand the importance of a strong business focused and timely compliance function for companies to navigate increasing regulatory obligations efficiently whilst enabling clients to access markets quickly and compliantly. Our clients include fund/asset managers, placement agents, FX brokers and ManCo/Fund platforms, investment advisors, both Shariah compliant and conventional.
Through our global platform of compliance services we can support clients to operate and meet their regulatory obligations across international financial hubs. We provide a single-source solution that covers the initial regulatory licensing process, through to ongoing compliance support and beyond.
Our experts build a collaborative relationship with each client taking time to understand the business and define the commensurate regulatory and compliance requirements. We provide full regulatory proficiency including Compliance Technology – allowing our clients to focus on building and growing their business.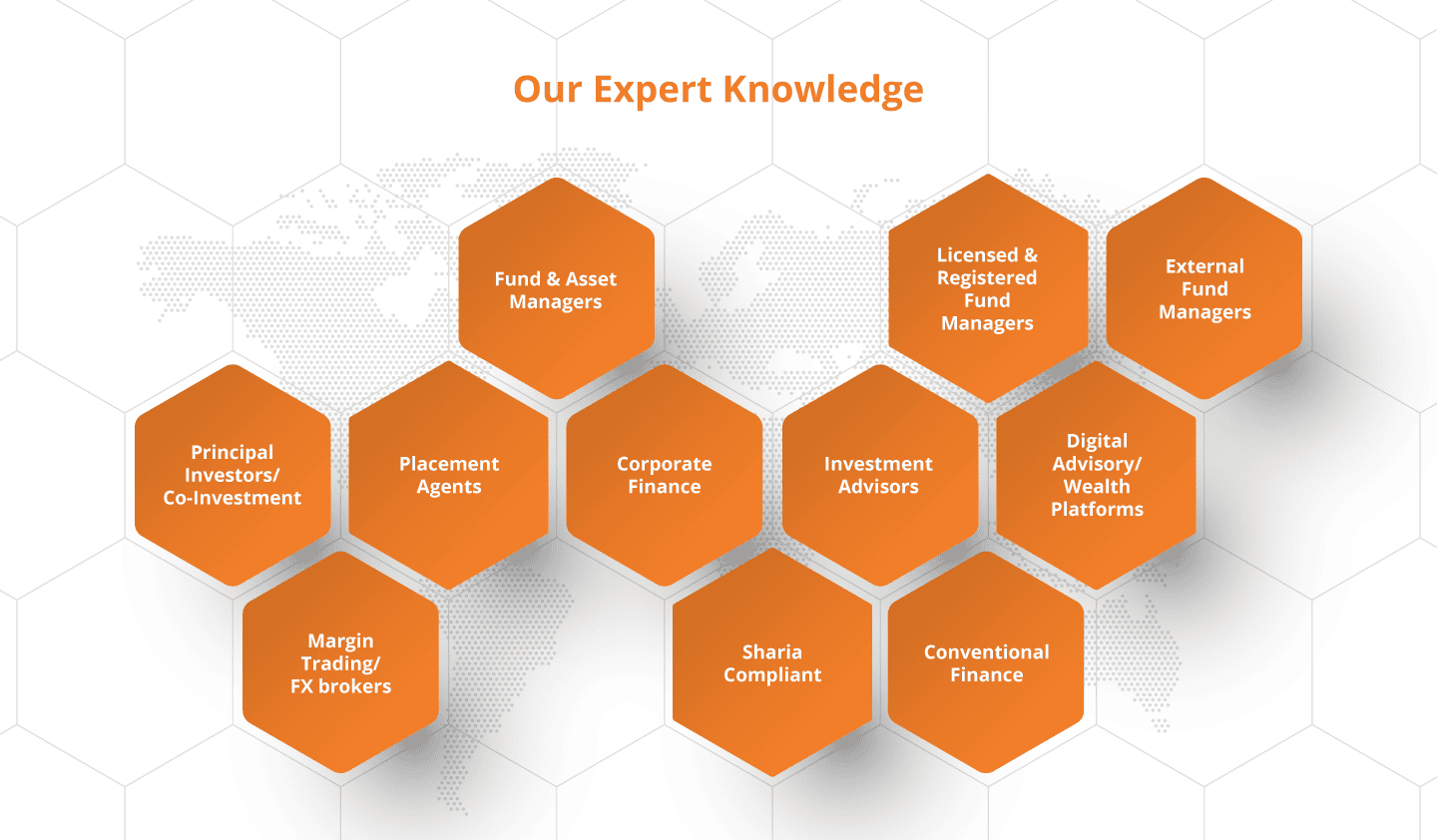 All Cayman domiciled funds must appoint individuals to act as Anti-Money Laundering Compliance Officer (AMLCO), Money Laundering Reporting Officer (MLRO) and Deputy Money Laundering Reporting Officer (DMLRO).
What does this mean for you?
If you have a Cayman fund, whether regulated or unregulated, you will need to appoint individuals to act in the following roles:
Our locally based and highly experienced Cayman team deliver robust AMLCO, DMLRO and MLRO solutions to support you with AML requirements. We will appoint the necessary person to satisfy the Cayman AML Officer requirements, including the roles of AMLCO, MLRO and DMLRO.
AML Officer duties include:
Appointment of the necessary persons to satisfy the Cayman AML Officer requirements, including the roles of AMLCO, MLRO and DMLRO
Monitoring by the AMLCO of a fund's activities with respect to AML issues, as well as maintaining logs that include declined businesses, PEPs, and requests from competent authorities
Conducting regular audits and reports in addition to advising the Board of Directors on Anti-Money Laundering and Countering the Financing of Terrorism policies and procedures for adherence with the AML regulations by the AMLCO
The AMLCO acting as the main point of contact with the relevant competent authorities
Investigation by the MLRO / DMLRO of any suspicious activities, with respect to both investors and investment activity of the fund, to determine whether disclosure in accordance with the AML regulations is appropriate
Drafting and filing by the MLRO / DMLRO of Suspicious Activity Reports ("SAR") with the FRA, and maintains confidential logs of all SAR reporting in accordance with the fund's vigilance systems by the the MLRO / DMLRO
Private Limited Liability Companies, Foundations and Private Partnerships must provide Ultimative Beneficial Ownership ("UBO") information to the Chamber of Commerce; non-compliance by entities or UBOs with respect to UBO obligations could lead to administrative or even criminal sanctions so it is important to get it right.
We support our clients in meeting UBO requirements in Luxembourg, Ireland and the Netherlands.
Services include:
Set up and registration of Beneficial Ownership ("BO")
On-going monitoring
Update and registration of any changes of Beneficial Ownership
Hyper-growth businesses often reach a point where additional expert support is required to scale their financial requirements. Both start-ups and mature firms experiencing fast growth need to focus on ensuring they have robust financial oversight and a clear strategy in place to support a sustainable future.
Our CFO service is tailored to each client's requirements and our financial experts integrate seamlessly with your team to support your growth, using your own established in-house systems, enabling you to benefit from economies of scale through leveraging our own platforms.
Services include:
Design and maintenance of finance policies and procedures
Development of complex financial models to evaluate measure drivers impacting various business areas to inform decision making
Tax filings and audits
Ensuring accuracy of cash flow forecasting, including monitoring assets and investments
Oversight of key management functions including payroll, compensation, general accounting etc
Leading budgeting process and acting as strategic advisor
Regulatory Licensing:
We provide a single-source solution to clients who require global access, our regulatory licensing services cover international jurisdictions including:
Dubai Financial Services Authority (DFSA) – Dubai International Financial Centre ('DIFC')
Financial Services Regulatory Authority (FSRA) – Abu Dhabi Global Market ('ADGM')
Financial Conduct Authority (FCA) – United Kingdom
Malta Financial Services Authority (MFSA) - Malta
Monetary Authority Singapore (MAS) – Singapore
Securities Exchange Commission (SEC) – United States of America
Services:
Regulatory business plan development
Identification of applicable regulatory permissions and framework to support the proposed business activities
Assistance in preparing the financial projections for regulatory capital requirements
Identification of the applicable risks commensurate with the business model
Regulatory application documents
Compliance Policies & Procedures
Interface and support with the regulatory agencies
Fund Services:
We can undertake the regulatory application process and incorporation support for funds that are established in regulated jurisdictions.
Services include:
Regulatory advisory on fund domicile
Fund applications
Intermediate GP applications
Investor/ Investment DD
SPV Formation
Client Assets Compliance
Fund Service Provider DD
Cross Border Advisory:
We can provide regulatory advisory support on various matters, including:
Global compliance policies and procedures
Cross-jurisdiction compliance support
Cross-jurisdiction licensing
We provide a range of outsourced regulatory functions which feed into the management reporting framework of regulated companies for effective compliance and governance risk management.
Compliance Officer
MLRO/AML Officer
Finance Officer
Regulatory Risk Officer
Compliance Services
Our tailored compliance services help our clients adapt to the ever-changing regulatory environment:
Financial Promotion/ Marketing compliance
Placement services compliance
Registration of funds for marketing (Recognised Jurisdiction/Overseas Equivalence regimes)
Conduct of business compliance- suitability, best execution, PAD, client classification
Investment Governance
Training Services
Compliance Monitoring and reviews
Risk Monitoring frameworks and reviews
Policies & Procedures
Management Information/Governance Reporting for Compliance & Risk
Regulatory risk assessment support
ESG & Sustainability Compliance
Compliance Oversight
Our compliance oversight services are structured to the clients requirements to fulfil their compliance obligations:
Provide tailored compliance support for the internal compliance structure
Local oversight services for global financial services operations
Regulatory alerting services
Compliance & Risk Management Reports
Compliance Technology
A tailored Compliance technology platform to enable a more focused and more responsive service allowing clients to gain quicker access to the markets:
Automated reporting
Integrated data control
Streamlined risk assessments
We provide AML and CTF services to a range of regulated institutions, fund, SPV's, Designated Non-Financial Body Professionals in line with international standards, local FIU and National Risk Assessment (NRA) considerations:
AML Reviews
AML Business Risk Assessment (BRA)
AML Management Information Reports
AML Update Services
AML, CTF, Financial Crime Training
General due diligence services
Investor due diligence
Investment due diligence
Transaction due diligence services
Know your Customer (KYC)
Know your Business Partner (KYB)
UBO due diligence services
Cayman AML Regulation and Business Risk Advisory
Investment, Transaction and Vendor due diligence focuses on highlighting reputational risk associated with potential investments, transactions or vendors associated with individuals that may be subject to sanction, domiciled in high risk jurisdictions or engaged in high risk products and transactions. We offer a suite of due diligence
services including vendor, investment and transaction due diligence covering various assessments at the
entity and related person level:
Transaction Due Diligence
Investor Due Diligence
Investment Due Diligence
Vendor/ Business partner Due Diligence
We provide focused support to financial services business seeking to digitalise the delivery of financial services:
Licensing for digital/Fintech businesses

Digital wealth management
Digitial/Robo-advisory

Compliance & Risk framework for FINTECH business
AML Services for digital financial services