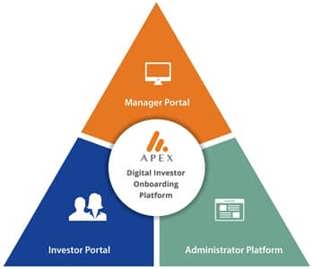 Our digital onboarding solution will give you the ability to onboard investors from any jurisdiction via one secure online platform.
We offer an end-to-end solution for your investors to streamline their investment process from onboarding and KYC to digital subscriptions.
With integrated activity tracking you will have full visibility of where your investors are in the onboarding process to ensure you maintain an efficient fundraise.
Manager Portal
Import/ set up clients
Create prefilled subscriptions for investor portal
Review recommendations
Live investor and fund level portfolio data
Online activity and transaction trail
Administrator Platform
Configure funds online
Manage subscriptions, capital calls and distributions
Automated reporting (NAV, IRR)
Manage investor KYC/B and checks
Upload reports, events, and performance data for easy, secure access
Investor Portal
Automated KYC/B
Instigate investments
Accept advised recommendations
Digitally sign subscriptions
View events and capital calls
Review live portfolio data
Multi-jurisdictional AML & KYC
Digital document upload
Secure fund data rooms
Digital subscriptions
Transparent communication with investors
Integrated reporting
Improve the investor experience
Re-use KYC to reduce the duplication of work
Onboard investors more efficiently
Automated digital subscription process
Track investor onboarding progress