← Back to Insights
PE trends and how service providers are assisting in these difficult times
Kartik Shah, global co-head of product for private equity, and Karl Salemangi, regional head of business development for the UK and Channel Islands, discuss PE trends and how service providers are assisting in these difficult times.
How are private capital firms managing the current economic and political uncertainty?
Kartik Shah: A subdued exit environment will persist as managers look to hold onto assets for longer. They will also consider exposure to inflation and how their portfolios will react to rising costs.
Karl Salemangi: Private asset managers are asking for more support with day-to-day operations. Demand for fund administration has increased, while in private credit we are getting involved in activities such as portfolio and loan-level administration that managers would previously not outsource.
What new investment vehicles are being used by private equity firms? What financial and operational challenges do these pose?
Shah: The use of continuation funds is enabling GPs to hold assets for longer. Most have realised strong returns over the past few years, so they are not under pressure to exit and instead are supporting operational improvements. As fund terms expire, trophy assets are flipped into continuation vehicles, often single asset, giving GPs time to extract value while investors can generate liquidity.
Salemangi: Private asset managers are enhancing liquidity or allowing portfolio turnover through hybrid and evergreen funds. A key challenge with these is balancing liquidity with the investment thesis. Our expertise and technology can help with funds that have both open- and closed ended characteristics. Another interesting trend is the aggregation of LP interests with feeder vehicles; the democratisation of private markets has always been of interest to GPs and we have technology solutions that do this seamlessly. Financial technologies like blockchain and digital valuation tools, which tackle robust controls and enhance liquidity, will be considered more.
What are the challenges of launching a new fund in the current climate, and how can outsourcing help?
Shah: Marketing and brand awareness are challenges for any emerging manager. In a competitive environment, a fund needs to differentiate itself. Having a sound services provider with a global presence can make a strategy stand out.
Salemangi: Apex has over 80 offices in more than 40 countries worldwide. Located in all major fund manager hubs, we provide guidance and support for new managers that helps them navigate regulation and understand the fund structures available. We also ensure that managers have maximum flexibility in product structuring with the necessary administration, banking, middle office or capital consulting infrastructure around them.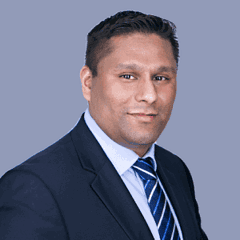 Kartik Shah
Global Co-Heads of Product – Private Equity
Karl Salemangi
Head of Business Development, UK and CI
What trends in private equity fundraising are you seeing at the moment?
Shah: A key trend is the democratisation of private equity through retail investors via aggregators and platform providers. Retail investors want portfolio diversification and are attracted to the asset class by recent above-average returns. Meanwhile, traditional fundraising is taking longer. Previously, a manager would aim to close within 3-6 months, but now this is taking perhaps 12-18 months. In addition, investor pressure for better returns and access to a wider range of investment strategies has led to a growing market for hybrid structures. These offer exposure to a variety of asset classes, liquid and illiquid, as well as liquidity options not available in closed-ended structures.
Salemangi: H1 2022 has been a resilient period for deployment, but how will exits perform with the current macroeconomic outlook? High inflation and oil prices would naturally point to a lull. But as fundraising for traditional private equity buyouts has slowed, private credit is growing. ESG is becoming an even more important consideration.
What do you think are the most important regulatory updates on the horizon?
Shah: The most obvious is ESG, a regulatory and broader concern for managers. In Europe, Sustainable Finance Disclosure Regulation (SFDR) Level 2 requirements will come into effect in January 2023. The latest revisions to the Alternative Investment Fund Managers Directive (AIFMD) will build on the success of the existing framework. These are not radical departures but do include important changes that managers need to know about.
Salemangi: The Apex Group is well-placed to help managers comply with AIFMD II and other regulatory developments. We provide AIFM, depositary, fund administration, corporate services, and capital markets assistance. Having an in-house bank serving clients in Luxembourg means we can open bank accounts for other clients here. 
How are your technological tools helping private equity clients?
Shah: Technology is a strategy rather than a cost. LPs are looking at digital solutions and GPs are looking at service providers to enhance their LP experience. We have a digital onboarding platform that our clients can adopt. Data is key as managers seek access to it, often in real-time, to support their analytics. Managers also want self-service reporting to respond to ever-increasing transparency demands from LPs.
Salemangi: Working culture is changing, with the "Great Resignation" and the rise of hybrid working. GPs are looking to us to take on process-driven work seamlessly, allowing them to focus on development and growth. We deliver this through technologies that provide data and metrics as clients need them.