← Back to Insights
Understanding Crypto Assets and their Issuers under the Markets in Crypto-Assets Regulation
As the Markets in Crypto-Assets Regulation ("MICA") becomes fully applicable for issuers of crypto-assets and Crypto-Assets Service Providers ("CASPs") on December 30, 2024, it is essential to understand the impact of this framework on the issuance and regulation of crypto-assets within the EU.
In the second article in this series, we will delve into the general aspects of crypto-assets, covering tokens such as Bitcoin ("BTC") and Ethereum ("ETH"), which are used as a medium of exchange for goods and services, as well as Utility Tokens which provide access to specific products or services available on the distributed ledger technology ("DLT") and are only accepted by the issuer of those tokens. Additionally, we will explore the key requirements imposed on issuers of these crypto assets, including whitepaper publication, marketing materials and the validity of notifications. Make sure to read our first article, where we explored the basic implications and scope of MiCA and how it aims to safeguard investors, promote financial stability, and foster innovation in the EU.
Types of Crypto Assets
MiCA recognizes various types of crypto-assets, including Asset-Referenced Tokens ("ART"), Electronic Money Tokens ("EMT"), and other crypto assets including Utility Tokens. The use of the term 'crypto assets' throughout this article shall be understood as referring to Utility Tokens and other types of crypto assets excluding ART and EMT.
Requirements applicable to Utility Tokens and other types of crypto assets excluding ART and EMT
A person can only make an offer to the public of a Utility Token and other types of crypto assets (excluding ART and EMT) if that person is a legal person and fulfils the following requirements:
Whitepaper Requirements:

 

Issuers or offerors of utility tokens are required to publish a whitepaper and notify it to the local competent authority. 

Article 6 as supplemented by Annex I of MiCA provides detail relating to the content and form of the crypto-asset whitepaper. This document is intended to provide comprehensive information about crypto assets, including their features, underlying technology, governance structure, risks, and intended use cases. It plays a vital role in enabling investors and users to make informed decisions and should therefore include information which is fair, clear and not misleading. It should also be presented in a concise and comprehensible form.

These requirements will also be further supplemented by draft implementing technical standards through which ESMA will be proposing standard forms, formats and templates as well as methodologies relating to sustainability indicators.

Providing a whitepaper which is misleading or incomplete or unclear shall expose the offeror, the person seeking admission to trading or operator of a trading platform to liability vis-à-vis the holder of the crypto asset for any loss.

Marketing Materials:

 

Issuers must ensure that their marketing materials provide accurate and transparent information about the crypto assets. Article 7 of MiCA details the requirements relating to marketing communications including avoiding misleading statements, false claims, or any form of market manipulation. The marketing materials should accurately reflect the characteristics and risks associated with the crypto assets.

Marketing communications shall upon request be notified to the competent authorities of the home member state and the host member state when addressing prospective holders of crypto-assets which are not asset-referenced tokens or e-money tokens in those member states.

Regulatory approval

Competent authorities shall not require prior approval of crypto-asset whitepapers, nor of any marketing communications, prior to their respective publication.

Publication

Offerors and persons seeking admission to trading of crypto assets shall publish their whitepapers and, where applicable, their marketing communications on their website prior to the starting date of the offer to the public.

Safeguarding arrangements

A time limit shall be set on the offer to the public and the result of such offer shall be published on the website within 20 working days of the end of the subscription period.

In the absence of a time limit, offerors shall publish on their website information on the number of units of the crypto assets in circulation at least on a monthly basis.

Right to Withdrawal

Retail holders who purchase crypto assets will have a period of 14 calendar days to withdraw their agreement to purchase crypto assets without incurring fees or costs. This is aligned with consumer protection requirements for the sale of goods and services.
Notification process
Article 8(4) of MiCA outlines the process of notification of the Whitepaper to the competent authority of the home Member State.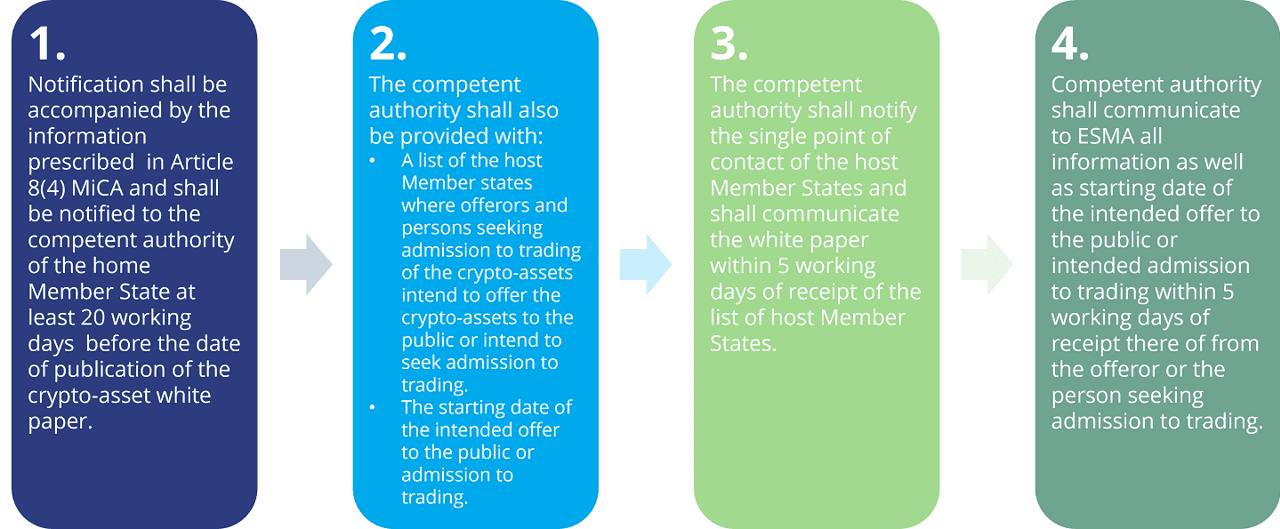 ESMA shall keep a register of crypto-asset whitepapers, of issuers of asset-referenced tokens and e-money tokens, and of crypto-asset service providers.
Follow Our Global Regulations Tracker
Over the coming months we will release a series of articles that delve deeper into MiCA through expert opinion and analysis. Join us for a comprehensive breakdown and enhanced understanding of this key new regulation.
Apex Group Can Help
We can help you stay compliant with the latest regulations and protect your business from financial crime. Get in touch for further information on:
Crypto/Virtual asset/VASP-CASP licensing
Crypto-assets Due Diligence services
Crypto AML compliance support
Crypto Compliance Training